Rarzack Olaegbe
---
"It is expanding each year. Why did Bangwell start this school? Because her heart sank! She got the idea of a science-oriented high school for poor children in 2014. Then, she drove her child to a hospital. She overheard a cleaner tell another patient that her young daughter was also a cleaner. Instead of going to school. Bangwell's heart sank"
---
There is a Bakare in you. You need to fish her out. That is what Irene Bangwell did. She is a former teacher. She runs a science-only Knosk Secondary School. The school enrols students from poor families. For N100 (25 cents) a day, she gives the students a chance to excel.
And hopes the students can hone the skills to help their families escape from poverty. The school is in Abuja. It opened in 2020. Faridat Bakare, one of the students, wants to become an engineer. She is 12 years old.
YOU CAN ALSO READ: Catalyst That'll Push Fintech To The Next Height
Bakare has developed a prototype for a solar-powered car. She made it from cardboard. Her goal is to work with robots. To build solar panels. To connect all snap circuits. And "things like that." She lives with her mother and four siblings in a poor neighbourhood in Abuja.
The school runs on donations. Bangwell's team visited all the families. To ascertain that they have no capacity to pay N66, 000 ($159) a term. That is the full school fees. The school has 82 pupils.
It is expanding each year. Why did Bangwell start this school? Because her heart sank! She got the idea of a science-oriented high school for poor children in 2014. Then, she drove her child to a hospital. She overheard a cleaner tell another patient that her young daughter was also a cleaner. Instead of going to school. Bangwell's heart sank.
When Bangwell decided to run the school, she asked a few questions. What kind of education does a poor man's child need to break out of poverty? How can the school fuse enough value into learning for the poor so that they can break out of poverty? Bangwell needed an answer.
That is why the students spend 75% of their time studying STEM. Science. Technology. Engineering. Mathematics. They will develop a prototype of what they can use. Or what they can pursue. After school. After graduation.
On The One Hand
Yes! That is how to teach digital wannabes how to fish. That is what the United Arab Emirate (UAE) is doing. The Emirate has launched 10 initiatives to empower 15,000 coders in six months. That is 1500 students in each of the 10 schemes. With these arrangements, the country will create a pool of digital skilled professionals in the workforce. Time frame. Six months. Target. 15,000 coders. According to khaleejtimes.com, Coders HQ owns the programme.
Coders HQ has collaborated global tech with companies to hatch these initiatives. The entire project is part of the national programme for coders' benchmark to attract 100,000 coders by year-end. Through these, the UAE will support and nurture coding communities. It will also align coding skills with the rapidly evolving labour market. And accelerate the adoption of digital applications in various economic and future-oriented sectors.
The Minister of State for Artificial Intelligence, Digital Economy and Remote Work Applications, Omar Al Olama said the Coders HQ would add 15,000 more coders to the current pool of digital talents. "We want to create an advanced technology movement from the UAE to the world."
The initiatives will create a large community of trained coders. The Coders HQ will also provide programmers with optimal job opportunities in the market. According to LinkedIn, the UAE has 63,000 digital skilled professionals in its workforce.
Coders HQ is an incubator. It provides the tools and expertise to nurture the next generation of specialist coders. These coders are deep in artificial intelligence and advanced technologies. It has trained and equipped 2,500 coders across different programmes. It trains 27 digital wannabes how to fish. Daily. How? It teaches them how to code.
On The Other Hand
In his executive notes, Kashifu Abdullahi, the Director General of the National Information Technology Development Agency has his own plan. His Strategic Road Map and Action Plan 2021-2024 provides a veritable compass to navigate the volatile, uncertain and dynamic digital industry.
YOU CAN ALSO READ:'How I Moved From Being a Failure To Success in Life' – Tiwa Savage
To engage the youths, Abdullahi collaborated with Mass Challenge. The partnership birthed a series of competitions for the youths. The enterprise's goal was to 'reboot' equality. By inspiring fresh and energetic approaches to digital inclusion, entrepreneurship, and skills development.
This was so that innovators could create business models. And give everyone an equal chance to seize the opportunities of technological change.  He explained that his agency had co-operated with the Nigerian Export Promotion Council (NEPC).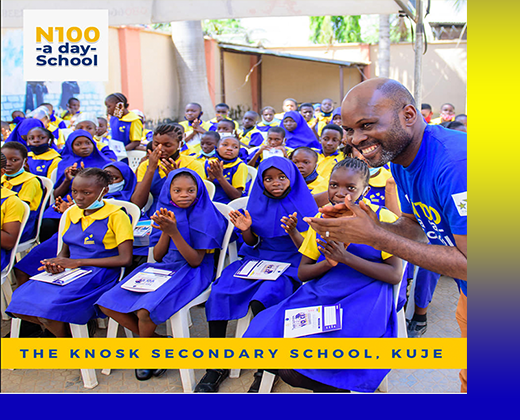 The cooperation supported six startups. The six startups got an N300 million grant. Five startups moved to the Intra-Africa Trade Fair (IATF). The startups leveraged the provision of the African Free Trade Agreement to export digital services to Sub-Saharan Africa.
From this side
With all these strategies, do you think our youths can compete with the UAE youths?
I do not code. I wish I could apply for the Coders HQ programme. In six months, I will be done. I will lean on the world's community to sharpen my skills.
I am surprised that you are not interested in the N300 million grant!
That is a fish. By producing excellent coders, Coders HQ is teaching the UAE digital wannabes how to fish. As an excellent coder, each of those wannabes will earn more than N300 million in a day. That is about $526,000.
That is a big fish!
It is small fry. Compare it with what Bakare will earn when her solar-powered cars roll out of the assembly line.
Do you want us to share your enterprise and brand stories to the world on our platform for effective business leads and returns?
Kindly call this number, +2348063450905 or send an email to news@enterpriseceo.ng.
We will be glad to tell your impact stories.
Follow enterpriseceo.ng on Twitter and Facebook to join the conversation.